February 9, 2013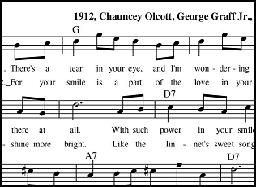 Our singalong songbook is now being marketed and distributed exclusively online, reducing delivery time to no more than a day and cutting the price by nearly half.
(Check our new ad in the lefthand column.)
Doing everything electronically, of course, brings our sales strategy into state-of-the-art – it's how a lot of companies do business these days – but that's not why we've made the change.
No, we're just too old and too lazy to be printing out and assembling books and then trucking them off to the post office. Not to mention the delay in delivery, often a week or more by mail, or the price and extra charges our customers have had to bear.
No more packages – or checks in the mail. Now it's all electronic using a credit card and the Internet.
When you order the songbook now, we simply email it to you and you pay us online through PayPal. The book comes as a 370-page pdf file that you can print out as much of or as little of as you wish. You can print out all 365 old favorites or just a few that you want for the time being. Or make multiple copies of the same song.
We also send you electronic templates of words to more than 240 songs that can be formatted into lyrics sheets.
Plus, unlimited technical assistance via email.
Yes, this all requires a little work on your part, but you get the songbook, lyrics and technical assistance within a day and at 54 percent of the old cost.
And if you're dissatisfied, we refund your money in full, no questions asked.
The old songbook, printed and bound in a three-ring binder, cost $39.95. The book weighed about three pounds, so even at the lowest media rate, it cost $5.79 to ship by regular mail, a cost that was passed on to the customer, pushing the total cost to $45.74. For Canadian customers, postage was limited to air mail – $12.85 – plus a $10 bank fee for any international check to be processed. That pushed their cost to $62.80.
It's now $24.95, flat, to anywhere. No extra charges.
The book is a collection of old favorite songs that have been compiled and transcribed over the past 20 years by our family band, the Hat Band, as we've held singalongs at area nursing homes and senior residences as volunteers.
We started selling the songbook as a way to help others volunteer to do similar singalongs. But in recent months, we've noticed customers ordering the songbook for their own personal use at home. The book is a great way to get back to that old piano or dust off that old guitar that's been sitting in a closet for years.
And ever since we posted two videos on YouTube – 'Play the piano in 19 minutes' and 'More 'fake' piano,' both showing a simplified way to play the piano – we've had customers order the songbook to help them learn the piano.
The lyrics sheets are a great help to volunteer singalong leaders who want to get their audiences more involved. Or, if you're at home, the sheets help your guests sing along as you sit at the piano or with a guitar to do a couple of oldtime favorites.
Now, what about that money-back guarantee? What if a customer wants a refund but has the electronic file already and can't be forced to return anything? Well, that doesn't matter to us. We've operated on mutual trust ever since we began marketing the songbooks some years ago, and we still abide by the honor system. (See our sales philosophy, We trust you. Note that our attitude toward online buying and selling has improved over the years because of PayPal's reputation for airtight security.)
This is just an easier way to do business in a project that started with the altruism of volunteers hoping to encourage other volunteers and now needs to change. Because we're getting older.
The average age of the Hat Band – my wife and I and her parents – is now 80. My wife is the kid at 66. I'm 73. Her parents are 88 and 92, both now using walkers and wheelchairs. We once did three or four singalongs a week. That got cut back to two, then one, and now we've taken the winter off to avoid the weather here in New York state and to rest up from bad colds and maybe a case of flu that we probably got at a nursing home or senior residence.
It's just time to take it easier. Maybe some of you can take up the banner. If you do, hey, we've got a songbook deal for you.
– Sid Leavitt
Posted in Uncategorized | 6 Comments »