June 8, 2007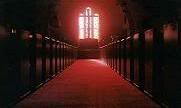 Nathanael is a religion graduate student in his mid-20s who thinks deeply and writes with great appeal. And I was very glad to find him and add his site, Despair and Coffee, to our blogroll.
The name of his site seemed appropriate after I had searched for two days through a couple of hundred weblogs and was near despair myself. My bright idea of how to ease the search for well-written blogs had burned out.
I had decided that instead of searching seemingly endless blog catalogs, I would go to the well-written blogs I'd already found and look through their comments and links for more winners. It didn't work out very well. For one thing, the links often were to sites similar in theme to the blogs I'd already found, and I'm trying to keep our blogroll as diverse as possible. In other cases, the comments came from admirers who didn't write as well as the admired.
And so it was back to the blogosphere underbrush.
Granted, I've been at this search only for a short time, but I've been diligent about it, and I must have gone through 5,000 sites by now. And I'm starting to spend less time on sites where I see the following:
(1) Content that only friends or family would appreciate.
(2) Pictures of cats or dogs. We have a dog and three cats and love them all, but as in (1), you have to know them.
(3) Illustrations of unicorns.
(4) Obvious grammatical errors. From a blog that will remain nameless: "I started out as a broadcast journalist, but fate took it's course when . . ." Forget it.
(5) Celebrity prattle.
(6) Authors' accounts of the difficulties of writing that first novel when the novel hasn't been finished.
(7) White letters on dark backgrounds. Not distinctive, overused and just hard to read.
(8) Overuse of profanity, although this can be a judgment call. One writer, describing an idol-driven TV show as a 'steaming pile of monkey shit,' said he turned to a different show that was a "bazillion times better than some no-talent, booger-eatin', fuckstick do(ing) fucking karaoke." A bit overstated, but considering the show, it's hard to disagree.
All pretty lightweight compared with what Nathanael is thinking about:
Life: "I catch myself frequently assigning a date other than the present for whenever I'll feel satisfied with my daily life . . . I dread the hours my 20-page research paper will require . . . Life generally strikes me in a similar way . . . However, I wonder if I'm naively concluding that satisfaction is contingent upon situational factors rather than a personal choice to make the most of what one has. What if there are always things which one wishes weren't part of his or her life? Does this necessitate discontentment?"
Love: "As time passes and the relationship endures, dramatic differences emerge or become sources of discord for the first time. And the differences aren't found beautiful anymore but rather something that needs to change about the other."
God: "I was diagnosed with achalasia, a rare disorder in which the muscles of the esophagus fail . . . A secret part of me blamed God (for) some cosmic endgame and my superfluous role in it . . . To be frank, though such thoughts are further removed than they have been in some time, deep down they lurk, subconsciously lingering to prevent me from being blindsided again."
The afterlife: "What if the soul is merely derivative of human consciousness, a figment which dematerializes immediately at death and the final failure of one's cognitive processes? . . . No matter if one feigns indifference, attempts to ignore, avoid, delay, hasten, or embrace it, death requires a conscious response. Maybe the perception of the soul is an unconscious response. Or maybe not."
Nathanael has been blogging about five months now. The two dozen entries on his site, most fairly lengthy, are well-reasoned reflections of a young man seeking answers to questions of the ages.
– Sid Leavitt
Posted in Uncategorized |