June 28, 2007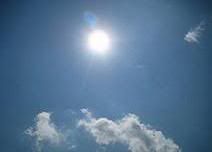 Jim is 40 (he'll be 41 in July), lives in the suburbs of New York City (probably somewhere on Long Island but he doesn't say), has an office job that pays enough so that his wife can stay at home and care for their daughters, 6 and 4, and among his dreams is a fantasy that his weblog becomes so popular that he can light cigars with $100 bills and admire his and his wife's matching Range Rovers in the driveway.
Jim's world is perfect, and just for its relentless optimism, his weblog, a well-written site titled appropriately enough 'I think this world is perfect . . .,' deserves to be on our blogroll. And so it is.
Jim describes his blog as "one man's attempt to keep track, and make sense, of the ups-and-downs and side-to-sides of parenting in the 21st century." And he does seem a commendable father, writing in gentle tones about his daughters, wife and home. In fact, the blog's name comes not from Jim but from daughter Madison, 6, whom he helped tap out some of her thoughts about their new home, a 1950s-vintage house with a trellised wooden fence laden with flowers, in a Word document on his computer:
I think this world is perfect. We are still moving in. We don't have a swing set yet. We still have boxes of toys. We are going to unpack the boxes soon. And, the people who live in this house are named Gwen, Madison, Jim and Ava.
On the bottom of the document printout, scrawled in a child's capital letters, is the name 'Madison.'
In another of his more endearing entries, Feb. 21, Jim tucks his younger daughter into bed, gives her a kiss and a hug and says, "Ava, who's more adorable than you? Nobody."
As soon as she hears the line, I can see her mind working, a little mischievous glint in her eye. I'm walking out of the room and she says, 'Daddy, who's more adorable than you?'
She lets the question sit for about a half a second, and then my 4-year-old completes the thought, accompanied by giggles . . . 'Somebody!'
On Memorial Day weekend, activities include a neighborhood birthday party, lacrosse practice, lounging at Jim's parents' pool, a visit to the city for brunch in Tribeca, some 'city-quality' tuna steaks and wild salmon to send back home to the suburbs, shopping for outdoor furniture, a visit to the mall . . .
It's the sort of existence Theodore Cleaver — well, maybe the Beaver's children and grandchildren — would have. And well, maybe with a considerable amount of computer-driven consumption and brand names thrown in.
For example, Jim doesn't drink wine, he drinks Turley Zin. The family doesn't eat bagels, they eat Alvarado Street bagels. The children don't have shoes, they have Crocs — in fact, Jim is so impressed with the popularity of the brand that he invests in the company. And they don't have stuffed animals, they have Webkinz, visited on the computer.
I couldn't help but think of the kid in the Christmas story recalled by a former newspaper colleague, Rob Borsellino, in our May 3 entry about an 8-year-old living with his grandparents in a seedy walkup:
The only sign of Christmas in the apartment was an anemic plastic tree they'd found on the street, dragged home and propped up in a corner. The only sign that a child lived there was some overused toys strewn around the living room floor. They were the kind of toys they give out at the fast-food places when you buy kid meals.
The rest of this Christmas story is even sadder, if you care to click on this link and read the whole story. When you say 'ups and downs,' this is a 'down.'
Not that Jim doesn't have his negative moments — a May 30 entry about Ava's broken arm, for example, although we are reassured by the doctor that it is "a very common break in children" and that her arm should be out of a cast in six weeks. But mostly, Jim's parenting experiences are 'ups' or 'side-to-sides.'
To be fair, he doesn't promise tales of poverty, hunger, war in Iraq or global warming. The closest he comes to the hard realities of the world are recent posts about the Paris Hilton jail saga and the final episode of "The Sopranos." Because his world is, like the blog says, pretty much perfect.
Your world may not be, but that doesn't mean you shouldn't visit his. Just to see what it's like.
– Sid Leavitt
Posted in Uncategorized |