September 30, 2007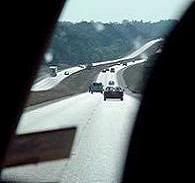 EDITOR'S NOTE: Following is an abridged version of Chapter 69 of "Adrift in America: Diary of a Minimalist Mariner," a work found in the nonfiction section:
Center Ossipee, New Hampshire. April 15, 1991.
It was at least 25 years before I moved onto wheels that I read John Steinbeck's Travels with Charley, but I've never forgotten a brief comparison he made between the highways of his mature years and the seaways of his youth. Where he once had joined men going down to the sea in their boats, he now joined men going down the highways in their trucks – inland sailors who carried cargo from one landlocked port to another, pitching and rolling through the urban eddies of the East and West Coasts, drifting toward the rural vanishing points of the Midwest and Plains States, ever plying an endless channel of asphalt through an endless slipstream of guard rails, greenbelts, blue-and-white signs. And so on.
I love Steinbeck's writing and admire his imagery, and I too have found many similarities between trucks and boats. For all I know, living on a boat is as romantic and heroic as Steinbeck's comparison makes it seem. I do know living in a truck isn't.
To those who live there, the American highway generally is not a poetic place to be. And after some years of blending into the roadside, I can assure you there are those who live there – people who regard the highway not as a passage to adventure, a lane for shipping, a canal between house and job or in any other sense a conduit from one place to another. To its residents, the highway is itself a place, sometimes the place, the only place, to be.
This shouldn't be surprising in a nation descended from itinerants. Most of us know about ancestors who came here across the Atlantic in the last few hundred years, but many of us also have ancestors we don't know much about – my straight-haired, coppery-skinned, high-cheeked, blue-and-hazel-eyed great-grandmother, for one – and these little-known ancestors were themselves descended from even more obscure people who, according to respectable anthropological theory, became America's first natives many thousands of years ago by walking here across the Aleutians.
Some of those who live on the road are still on foot. Others of us, perhaps not yet ready or able to strip off our trappings and plunge naked into the sea of life, are drifting on wheels.
We live in an unlikely collection of vehicles – the old family station wagon, the converted van, the pickup with camper, even the beat-up beetle or, in my case, the second-hand recreational vehicle I prefer to call simply a truck. There's not a tractor-trailer rig in the bunch. In fact, I'd say my 17-foot truck is about as big as you could use for a life on the road.
That's because as incongruous a group of vehicles as this may seem, what they must deal with in common is a physical equation that – here, a tip of the captain's hat to Steinbeck – also makes them very much like boats. These vehicles must carry enough gear to sustain themselves as dwellings on the road but at the same time must be small enough and light enough to move easily and efficiently. Just like boats.
Living in these on-road vehicles . . . 'on-road' strikes me as a fitting adjective for these vehicles because they are exactly the antithesis of off-road vehicles that turn the world into their highway instead of the other way around . . . living in these on-road vehicles is a decidedly unromantic routine of maintaining, repairing or patching them together, continually inoculating yourself on sharp things covered with dirt or rust, incessantly shifting stuff around, always looking for a level place to park for the night, keeping an eye out for police who will try to move you somewhere else, not to mention vandals who will try to move everything but you somewhere else.
No, it isn't poetry that keeps me on the road. I'm on the road for the most prosaic of reasons: I was looking for the cheapest way to live – the least expensive way to keep me and my basic necessities out of the weather, debt and jail – and that turned out to be a truck.
And that's how I came to join the motley fleet of the minimalist mariners.
– Sid Leavitt
Posted in Uncategorized | 1 Comment »