January 31, 2008
Oh yet we trust that somehow good
Will be the final goal of ill.
– Alfred Lord Tennyson, 1850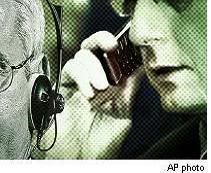 I'll tell you what this country has come down to: The other day, I told Ma Bell I didn't trust her.
Never before, in my long personal and professional life with the telephone, have words like that come out of my mouth and into the mouthpiece. True, as a reporter for many years and a curmudgeon for even longer, I have had many colorful conversations on the telephone, some of them even involving profanities. But never, ever have I told anyone on the phone: "I don't trust you."
But I did the other day. Because the operator was asking too many questions for my comfort level.
I was trying to get the operator to call a local business and tell whoever was sending facsimile transmissions to our telephone to stop it. We don't have a fax machine at our house, and I know whoever was sending us faxes was just a knucklehead with a wrong number. In fact, I called the business — a local doughnut shop — and told them they had a wrong number. But the faxes kept coming.
Part of the reason may have been that it was just after 7 a.m. and whoever was making the doughnuts had breathed in too many fryer fumes to think straight. But that's also why that first phone call was disquieting. My wife and I are in our 60s (me still barely), and everyone who knows us is aware that we don't get up much before 8 a.m. Phone calls that wake us up are usually bad news, like one I got some months ago that my mother, who was in the hospital awaiting surgery, had died.
So I wasn't in the best of moods when I told the fax story to one operator at Verizon and then was transferred to another who wanted the story again. I was trying to tell her the number where the faxes were coming from, but she wanted to know our phone number first. Then, instead of inquiring about the other number, she asked me my name.
I know, I know, it was a reasonable question. And I'm sure if I had given her my name, her next request would have been the other phone number.
But something went off in my head.
"I'm not going to tell you. I don't trust you."
I heard the operator's last words as I hung up the phone: "Whaaat? You don't . . ."
We Americans didn't find out until 2006 that George W. Bush five years earlier, just weeks after the Sept. 11 attacks, had bypassed the federal court that oversees domestic spying and had ordered secret phone and email surveillance of any and all of us. And three of the phone companies — AT&T, BellSouth and, yes, Verizon — had agreed to cooperate in this spying, again without telling us*.
That's what went off in my head.
My wife thinks I'm being a bit paranoid. But she went to high school in the 1960s. I went in the 1950s, during the height of the McCarthy witchhunts. One year, every student in our school had to sign a loyalty oath. Students. I remember thinking if I were a communist agent, the last thing I'd refuse to do was sign a loyalty oath. But I didn't dare say that. Not then.
Later, I got a college degree in Russian language and culture. In the Army, I was a translator familiar with Soviet military and civilian operations. The Soviet system reminded me not of America's left-wingers but of its right-wingers. Like McCarthy, the Soviets were big on suspicion, surveillance, wiretapping. And now we Americans, thanks to the Bush administration, have fallen into the same trap again.
My mother-in-law, who retired from the phone company after many years of loyal service, had a different take on the current situation:
"Ma Bell," she said, "died years ago."
That's true. In 1984, the local operations of AT&T, parent company of the Bell system, were broken up into seven independent companies known as the 'Baby Bells,' including the three who in 2001 agreed to the domestic spying.
The phone company divestiture was the result of a complicated legal and legislative process that involved a lot of participants, many of whom I cannot identify. So I don't know who brought about Ma Bell's death.
But I do know who killed three of her babies.
– Sid Leavitt
NOTES:
* Only Qwest refused. It was worried about getting sued by customers for handing over information about them to the government without warrants. It's that same worry that led the Bush administration last year to seek immunity for the three companies that did cooperate.
Posted in Uncategorized | 2 Comments »