February 28, 2008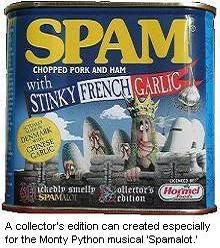 Oh brother1, now we're getting spam in French.
I can't think of a reason Mademoiselle Ramatou Silue would send us a bonsoir in French, except once in a long-ago post on R&W Blog, I used the expression au contraire.
Mlle. Silue does not identify where she lives, but judging from her name, I am guessing somewhere in Africa. And she has a great deal of money — $7.5 million — and is quite generous. In fact, she is willing to give me more than $1.1 million to share my expertise in real estate or other promising investments in the U.S.
I am quite flattered.
For those of you conversant in French, here is her message:
Bonsoir,
Je viens par ce mail solliciter votre aide pour l'exécution d'une transaction financière. J'aimerais investir dans l'immobilier ou un domaine prospère dans votre pays que vous pourrez me conseiller.
J'ai sept millions cinq cents mille dollars américains ($7,500,000.00 US) que je voudrais investir et je vous donnerai généreusement 15% de toute la somme en contre partie de votre aide en recevant les fonds sur votre compte dans votre pays.
Veuillez s'il vous plait me contacter immédiatement à mon adresse email (ED: adresse raturé) pour davantage d'explications.
En attendant votre réponse immédiate.
Respectueusement.
Mlle Ramatou Silue
For those of you not conversant in French, here is a short translation:
If you send this woman d'argent, you are totally foutu2.
I should give Mlle. Silue credit for guessing correctly that I am conversant in French — well, not conversant because, while I read it, I do not speak it very well. Let's put it this way: I am conversant enough in French to get totally lost in Quebec.
(Ask my wife about my conversational ability in Spanish, which got us arrested on a military compound in south Texas because I refused to speak to the guard at the gate in English and he told me in Spanish that we weren't supposed to enter, those words coming just before I thanked him cheerfully, still in Spanish, and drove past the gate onto the compound. Boy, was he pissed off when the police brought us back to the gate about a half hour later. We didn't have to do any time, although the guard did talk to me sternly in English. As did my wife for some time afterward.)
And speaking of weird spam, we at R&W Blog keep getting comments from Doodee, a blogger in Thailand, who "thanks us for sharing." Day after day. The first message piqued our curiosity, so we visited Doodee. And here's what he said:
I Did Not Leave a Comment on Your Blog or Forum
If you've arrived at this blog by clicking on a link in a comment left on your own blog or a comment left in a forum (a comment supposedly left by me), then I'm sorry to tell you that you have been deceived – but not by me.
I rarely leave comments on blogs other than my own.
I have not left a comment on anyone's blog other than my own for at least six months. . .
Someone is impersonating me.
By the way, Doodee runs an interesting blog. If you're interested in a perspective from (what is to me) the other side of the world, check it out.
Ah, spam. One great breakfast meat. One growing blogosphere treat.
– Sid Leavitt
NOTES:
1. My wife says I should change this expression to O frère, but I don't think the French use it that way.
2. This is one word the French do use pretty much the way we do. It means, putting it politely, 'having had sexual intercourse,' but it also can be translated as 'screwed.' An alternative would be dans la merde, which means, again politely, 'in deep doodoo.' (Sorry, Doodee, no pun intended.) Argent, by the way, means 'money.' And, oh yes, the French word for spam is, you guessed it, le spam.
Posted in Uncategorized | 6 Comments »