March 30, 2008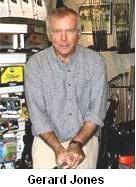 OK, you just might find a picture of Gerard Jones under 'curmudgeon' in the dictionary, but like most snarly guys, he can be a sweetheart, too.
That's why his website is the latest addition to our blogroll.
The site, Everyone Who's Anyone,* isn't a blog in the traditional sense but has sporadic posts dating back to mid-2002, most of them diatribes against publishing and entertainment that live up to their title, Chronological Ranting & Raving.
Jones also is author of Ginny Good, a memoir of sorts — he calls it a 'nonfiction novel' — that chronicles his classic love of the 1960s, a love that like all classic stories is a tragedy. It also is the only book of his ever to be put into print by a publisher, a considerable achievement in light of this soon-to-be 66-year-old's attitude toward publishers.
And now the good-guy stuff:
Jones has reacquired the rights to Ginny Good and is offering it free as both an e-book and an audio book, each of which we plan to pass on to our readers.
We don't know if Jones is independently wealthy (we suspect not), but he certainly is independent, fiercely so, and that gives a certain integrity to his other free offerings — notably, his extensive listings of literary agents, publishers and other influential figures in print, broadcast and film media.
We came across his site in a search for literary agents. Jones has all the important ones — thousands of them — listed with contact names, telephone numbers and both snail mail and email addresses. It's the kind of stuff you have to buy for several hundred dollars a year from other sources.
Jones, who spent years compiling his lists, provides them for free. And he weeds out the phonies and predators wherever he can.
What we liked about his list of literary agents is that Jones includes his correspondence with some of them. Here's an exchange with a snippy agent who reminded Jones that a "professional writer acts as such before they are published":
How does one 'act' professional? Is that some kind of code word for being a kowtowing, no-talent, kiss-up gerbil who couldn't write his or her way out of a paper bag? Just curious. G.
No, more along the lines of not writing a nasty response when receiving a letter declining representation.
Oh, come on, you think Kafka didn't get a little ticked when nobody published any of his stuff while he was alive? And yet if you had one of his 'nasty' responses you could auction it for more money than you're gonna make in the next ten years. Chill, dudette. G.
To her credit, the agent replied simply:
I'm sure that's true. Happy Holidays.
And sometimes the invective becomes a volcano, as in the following note to an unresponsive agent (our deletions):
Hey, Warren, it just dawned on me what a total f—ing c— you are. Has it dawned on you lately what a total f—ing c— you are? It really should, you know. It will. You'll see. It'll send a little chill up your spine when you get a glimpse of your total f—ing c— self in the mirror, you total f—ing c—. Oh, and after you're done looking at your total f—ing c— self in the mirror, how about sending me my book back? Thanks. G.
But notice that last word. The explosively angry guy still takes time to say thanks. This clue didn't escape Linda L. Richards, an author and editor of January Magazine, when she reviewed Ginny Good in 2004:
Jones brings a sort of careless insouciance to Ginny Good. An early hippie devil-may-care- ef-em-if-they- can't-take-a-joke attitude that pretends to mask deeper feelings. Pretends, of course, because it's clear that Jones cares deeply about everything that befalls him and Ginny and the others we meet in Ginny Good. And he wants us to know he cares, but he wants us to find our own way to that conclusion.
Richards calls it an "intelligent respect for the intelligence of his reader." We're reading Ginny Good, and we agree. We hope you do, too. You can find the book right at the top of his website, and we'll soon be serializing it as well.
His is a refreshing voice in these present days of ours when most of the guys you'd describe as fiercely independent are apt to grab one of their guns and shoot you.
– Sid Leavitt
NOTE:
*That's just the short version of the title, which continues ". . . in Adult Trade Publishing, Newspapers, Magazines, Broadcasting and Tinseltown, Too."
Posted in Uncategorized | 5 Comments »