April 27, 2008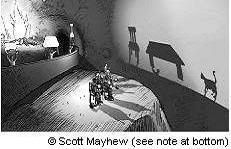 James L. Fox is a fellow hermit, and we have a deal: He likes to write, and I like to read what he writes.
We present his latest short story, 'All That Glitters,' in our fiction section today.
Fox and I do have our differences. At 80, he's a few years older than me (but not that many). He served in the 'Tin Can' Navy of Admiral Bull Halsey's 7th Fleet, while I pounded various parts of the Earth in the old 1st Army. He admits to being a hermit — he lives in the Mojave Desert of southern California in the shadows of the San Gabriel Mountains — while I am sort of a recluse but really more of a lollygagger, a dawdler who likes to sit at home on the suburban outskirts of New York City and daydream.
Fox likes to describe his short stories, posted in a Hermit's Cave section of his website, as 'tall tales,' but I see them more as what we used to call 'good yarns.' Because his tales could never be as tall as some told by relatives of mine.
I got my first name from a great-uncle who used to tell of winters so cold that he once saw a chain of lightning frozen in a pond. Or mosquitos so big that the only escape was to run inside a house and wait until they shoved their beaks through the window screens, then hammer the beaks over to trap the buggers. (Of course, they once flew away with the house, he said.)
I have another uncle who tells such whoppers that some members of the family actually get angry:
"Every word that comes out of his mouth is a lie," they say.
"I know it," I say, "but I love the stories."
I'm sure Fox has a much better reputation for veracity, but I have the same affection for his stories. I'm still thinking about where Jim Graham's boots went in "Lucky Dawg," the first of Fox's short stories that we published April 10. (Note: You won't find the story under that title now. It is now included in a new fiction entry titled 'Short Stories by James L. Fox,' now topped by "All That Glitters.")
Fox's website is a rambling place of long and short stories, essays, community services and a few commercial touches, one of them a website he set up for his daughter, Sherry, who takes care of him. The nameplate of his Reading Room shows a smiling bat welcoming you to a cave full of stories with the following introduction from the Mojave Hermit:
Ya get lots a' time to think about how things oughta be when you're all by yer lonesome in the desert lookin' for gold and wonderin' what if this and what if that were different. I never ever started a yarn with a plot in mind . . . I just created some ornery characters (some of them are real people, but I ain't tellin'), I just threw them together and let the fur fly. Sometimes, I never knew how it was gonna end 'til it did. Hope ya enjoy my make-believe people.
Spoken like a true hermit.
And now, today's other new offerings:
• Chapter Seven: North Beach of Gerard Jones' nonfiction novel Ginny Good in which Jones and his friend Elliot, who is about to ship out to Vietnam, go to a jazz club where they first meet Ginny Good, a cute girl with a giggly voice and a tight black dress.
• Chapter Fourteen: A New Light of Steve Karmazenuk's science fiction novel The Unearthing in which scientists notice a strange blue energy coming from cell samples taken from an alien ship unearthed in New Mexico.
– Sid Leavitt
NOTE:
The image above is an illustration by Scott Mayhew showing Plato's cave, an allegory used by the classical Greek philosopher in his work The Republic. The cave symbolizes, among other things, that what we perceive may be only shadows of a deeper reality, notably of The Good. The illustration is from a website, Matt Lawrence's Home Page, now a dead link.
Posted in Uncategorized | 7 Comments »