April 13, 2008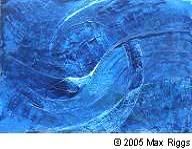 Wow, I'm rolling in waves of words — so much to read, so little time to do it. And even as I verge on sensory overload in this literary sea, it's not an unpleasant sensation.
I'm basically a nonfiction guy, due no doubt to all those years I spent writing and editing newspaper copy. I've read a fair amount of fiction — mostly as a young man and mostly the classics of either antiquity or the 17th through the 20th centuries. As I grew older, my reading tastes gravitated to nonfiction — history, memoirs, trade stuff.
Now I administer this website-weblog where we're serializing three novels and one nonfiction novel, all of them well-written, and it's like I'm a young man again.
Here's a sample of what I'm talking about — it's the final paragraph in our first installment of J. Cafesin's novel Disconnected that we began serializing on Thursday:
I angled the gun so it pointed toward my brain and fingered it until I found the trigger. Every microscopic movement of my fingers registering in my head, but it felt unreal, like it was happening to someone else and I was just watching. Or like I was playing a game and even if I pulled the trigger and the bullet ripped the back of my skull out, it would only be temporary, like in a dream or cartoon, and after, I would get up, go into the kitchen and get a Diet Coke while I tried to figure out what to do with the rest of my evening. I squeezed the trigger very slowly. I could barely hear my intuition screaming at me to stop, but I didn't. I never listened to my intuition anymore, anyway, why start now. . .
Man, that's good writing. And it made me want to read today's installment, Chapter One.
I should also mention today's other installments:
• Chapter Ten of Steve Karmazenuk's science fiction novel, The Unearthing, subtitled "First Contacts," in which members of a scientific survey team begin deciphering the language of an alien ship unearthed in the New Mexico desert.
• Chapter Three of Gerard Jones' nonfiction work, Ginny Good, in which Jones talks about his early years in Michigan, including confrontations with a couple of teachers and the beginning of a steamy liaison with . . . well, you'd better read it for yourself.
As a result of all this good stuff, I've been spending a lot more time at this computer, doing a lot of type conversion and proofreading and whatever small amount of editing is required to adapt these works to R&W Blog's general style — mostly punctuation.
And, as I said, I'm reading a lot more fiction these days, which is good, but it has made me realize how much my horizons narrowed over the years. Now that I'm retired, they're broadening again.
A fellow blogger, Kevin Dickinson of Words, one of our blogroll listings at the right, talks in his April 3 entry about how much more he wants to read and how little time he has to do it: "I'm a dish sponge trying to be a car-wash sponge," he says.
It's a familiar feeling. And according to a recent newspaper article, it's not just shared by me. The article cites the increasing pressure that bloggers put upon themselves and lists two of them, men ages 60 and 50, who died of heart attacks and a third, age 41, who survived his coronary.
Well, I'm older than all of them, but I don't worry about keeling over at the computer. For one thing, I can't worry about it — I'm in my late 60s where death shouldn't be a surprise to anyone. For another thing, right behind this space I use as an office is a treadmill where I walk for 20 minutes a day — about a mile — most every day. And I do get out regularly.
And finally, what I feel as I sit here blogging is not pressure or dread but excitement and satisfaction. And if that kills me . . . well, I can think of worse ways to go.
– Sid Leavitt
NOTE:
The image at top is "River over Yin and Yang," a 2005 painting in acrylic by Max Riggs, whose website is at http://www.maxriggs.com/.
Posted in Uncategorized |