May 29, 2008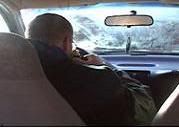 By the time you see this — if you ever do — I'll be halfway to Indiana. Halfway from where? It doesn't matter. Because Indiana is a state of mind.
I'm getting there with my wife and her parents, tooling along the eastern interstate highway system in a rented 2006 red Chrysler van with tinted windows, a special step for the elders, both of whom use canes, and an abundant cargo that includes luggage for four people for nine days, five musical instruments — two guitars, a banjo, a mandolin and a violin — and a Gateway laptop computer that hasn't yet become my best friend.
Oh, the Gateway and I are on pretty good terms, and they will get better when I become more accustomed to its tiny keyboard and its inability to download anything from the Internet because its operating system is not my customary Microsoft XP but a more exotic OS called Ubuntu.
Ah, not to worry. I have transferred what I hope are all the files I will need from the big desktop to the Ubuntu-loaded laptop. In fact, I plan to post this entry when we stop at the next motel, which I assume will have the wireless technology that we now call wi-fi.
I hope the entry gets to you.
It was my wife's sons, Brett and Todd, who hooked me up with the laptop — it was one of Todd's old machines — and Brett tutored me on it, explaining about Ubuntu in terms that I mostly followed. What sold me on the laptop was not the price — although it was ridiculously reasonable (thanks, Todd) — but what I first noticed when I opened the top: The Gateway logo.

It's a Holstein. And as all of us hicks know — hey, we just live in the New York exurbs, we're not from there — that means high production with a decent fat content.
My wife, Bonnie, and her parents, Glenn and Virginia Sunderman, are all natives of Indiana. As for me, I'm a New Hampshire boy apprenticing to be a Hoosier. We've made this trip several times in the past, and I'm no stranger to long-haul driving.
In fact, the image at the top is not any of us driving the van. It's an old image I used in an April 2007 entry about some of my years living in a truck and traveling the country in the 1980s and early '90s. Man, after two days in this van, I'm glad I did it then.*
Enough of this silliness. We've got to get to Huntington, Ind., by Sunday for a 90th birthday celebration for Bonnie's Aunt Maxine, the kindly matriarch of the Sunderman family.
Meanwhile, may we recommend today's new offerings in our Works section:
• Chapter Four of R.J. Keller's novel Waiting for Spring. Tess Dyer and her new neighbor, Brian LaChance, an attractive man at least a decade her junior, visit a local diner where a little girl takes Tess for Brian's girlfriend, an assumption that makes them both blush. The heat between them already is rising.
• Cross Roads, a new short story by James L. Fox, the Mojave Hermit, that blends the past, present and future in the tale of an old prospector, a young motorcyclist and a man named Jan all meeting at a place called Devil's Gulch.
• Chapter 16: Clift Hotel of Gerard Jones' nonfiction novel Ginny Good. Gerard begins a diary in 1965, but the daily entries end on Jan. 9 after his friend Elliot confides an interest in Ginny. The next entry — the diary's last — is about Ginny's trip to a hospital Feb. 17 for an abortion.
– Sid Leavitt
NOTE:
*In fact, at today's gasoline prices — they've flirted with $4 a gallon in the last two days — I think that old truck and I would have stayed parked most of those years.
Posted in Uncategorized | 2 Comments »