June 29, 2008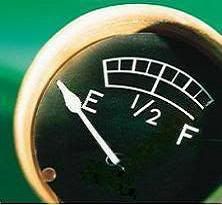 It's too bad global warming couldn't be just in the Northeast just in the winter.
I don't know about you guys, but at our house, we're spending the warm-weather days wondering just how high the guaranteed price of heating oil is going to be for this winter under our prepay plan.
Meanwhile, we're not just wondering. We're taking whatever steps we can to reduce our use of oil, including an alternative for heating our water and a small construction project to close off even more of our house for the winter.
The letter outlining the new prepay plan hasn't come yet from our heating oil dealer, but it's going to be ugly. We know this for a reason that is beyond the current skyrocketing price of crude oil — namely, that the letter hasn't come yet.
By this time last year, we already had signed up for 850 gallons of No. 2 heating oil at a guaranteed price of $2.50 a gallon. Even with a 5-cent-a-gallon discount for prepaying, the whole thing still came up to $2,124. Now we're people of moderate means, and that was a hard amount to come up with. That's why we wear sweaters and keep our thermostat under 65 degrees in the winter.
At the end of the heating season in April, we had run 12 gallons over our guaranteed amount, and that extra 12 gallons was billed at $3.70 a gallon.
What's next — $4.50 a gallon?
I don't know, but I called our heating oil dealer a week ago and was told they were "still working on" the capped price program.
——————————————————–
Update: We just got the letter from our heating oil dealer. The base guaranteed price will be not $4.50 but $4.70 a gallon — for us, a total of about $4,000, payable up front.
——————————————————–
Is it any wonder our friends are talking about putting in wood stoves? Not me. I grew up with wood stoves and later wood furnaces. They're a lot of work and, no matter how airtight, a lot of smoke.
My stepfather, a logger, always brought home slabs and other leftovers from the sawmill, but even he wasn't keen about burning wood. We were cutting up wood one day in the early 1960s — heating oil then was about 25 cents a gallon, I think — when he turned to me and said, "I keep praying for oil to go back down to 19 cents."
It never did.
We're hoping to knock off 250 gallons of our oil use by installing a tankless water heater that will keep the furnace from coming on just to heat its water tank. Sure, the new heater will use either more electricity or perhaps LP gas, but it won't waste energy heating a water tank. The new heater will cost around $2,500, but at the current price of oil, that's what we would waste in about two years of furnace-supplied hot water.
You know, Jimmy Carter warned us about this problem almost 30 years ago, just after the OPEC embargo caused our first big petroleum crisis, and he was ridiculed for his "malaise" speech:
In a nation that was proud of hard work, strong families, close-knit communities and our faith in God, too many of us now tend to worship self-indulgence and consumption.
Carter called for a massive program toward energy conservation and independence. Then along came Ronald Reagan, told us nothing was wrong and dismantled the energy program. Twenty years later, having learned nothing, we put two oilmen in the White House. We know how that has turned out.
Meanwhile, the auto makers are still advertising SUVs, the neighborhood adolescents are still roaring around on ATVs, and the Nascar types are still going around in circles.
I hope the bastards all freeze this winter.
Today in our Works section:
• Chapter 11 of R.J. Keller's novel Waiting for Spring. Tess and Brian awaken together in bed where they are interrupted by the arrival of his sister, Rachel. She seems to accept Tess in her brother's life but resists his attempts to curb a growing drug problem in her own.
• Chapter 23: Golden Gate Park of Gerard Jones' nonfiction novel Ginny Good. Gerard meanders into the park, thinking he has to find some way of getting away from Ginny, when he witnesses a confrontation between a graying hippie and two young Marines. The hippie has a machete.
– Sid Leavitt
Posted in Uncategorized | 8 Comments »