July 31, 2008
As I said last time, our 50-year high school reunion was great, but please excuse me for a moment while I pick a bone with my classmates:
You guys really pissed me off, you know. You all looked great. You were supposed to look like geezers in your late 60s, but noooo . . . Oh, I know, you said I looked great, too, but that was just polite lies. But you guys really did look great. Damn it. Well, you're all too good-looking to stay mad at. So I guess you're forgiven.
In fact, thanks to Patty and Al and all the others who organized the reunion. It was at The Oaks Golf Links in Somersworth, N.H., a fancy place with a fancy dining room — large banquet tables with linen tablecloths, tall crystal centerpieces and great food. (Are restaurants in general getting better, or am I just getting hungrier?)
Jean Anne, one of our more vivacious cheerleaders, was still jumping around like a teenager. (I still don't believe your story about getting a knee replacement.)
Chuck and Marcia, sorry I missed you. I don't know how it happened. I think that's you in the left foreground of my terrible photo above. (You'd never believe that for many of my 38 years in the newspaper business, I also carried a camera and processed my own film and prints. But that was before digital cameras.)
Stan, we never did get a chance to discuss your latest oceanographic achievements, but since Lamont-Doherty's headquarters are just south of us on the Hudson River, maybe we'll get together there.
John, it really was great to see Christa, ha, ha . . . and you. Really, old buddy.
Cynthia, who went to the junior prom with me, you still are youthful enough to go to anyone's junior prom, and so is your husband, the charming Richard.
Butch and Joy, our class couple, you have no right to look exactly — and I mean exactly — like your yearbook picture.
And now to Roger, Irene, Richard, Donald, Paul, Royal, Maurice, John, Laurel, Louie, Pete, Ruth, George, Peter, Carl, Dave, Bruce and Ronald, I miss you. We miss you. You died too soon.
Nearly 100 people came to the reunion. Some, of course, were spouses, but that's not bad for a class of either 125 or 150, depending on my memory. Maybe some of our cohesiveness comes from the fact that we went to a great school. For those who missed the comments section of my Oct. 21 entry (and I'm sure no one did), I reprint a picture of Spaulding High School, Rochester, N.H.: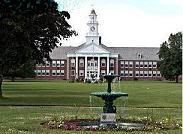 My wife, Bonnie, said she was struck by how nice everyone at the reunion was. Well, yes, they are nice. In New Hampshire, it's the law: If you're not nice, you have to leave the state. Which explains why I now live in New York.
Today's new offerings in Works:
• Chapter 32: Hillsborough of Gerard Jones' nonfiction novel Ginny Good. Gerard, reunited with Melanie, goes to visit longtime friend Elliot in Hillsborough and finds him now completely insane. The next day, Elliot kills himself with the same revolver his father had used to commit suicide.
• Chapter 20 of R.J. Keller's novel Waiting for Spring. Tess takes Brian back to her old town, back to the diner where the owner, a friend of her ex-husband, on the day of her divorce had called her a whore.
– Sid Leavitt
Posted in Uncategorized | 2 Comments »