August 31, 2008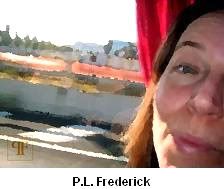 I've had the pleasure this past week of reading all 45 of our blogroll colleagues at my leisure (if that word made a rhyming echo with 'pleasure,' you may be too fancy for this blog) — and received some creatively vivid poetry from one of them, the always-original P.L. Frederick.
Besides that, I started and finished a home improvement project — as planned and on time. Now there's an oddity. Two of them, really.
Frederick, who has contributed four works to our poetry section, is a graphic artist, writer, poet and mistress-of-all-trades who lives in the Boston area. Three of her poems — 'Humming Field,' 'Parade' and 'Downward Dog' — are drawn from nature, all luxuriant with an undertone of humor. The fourth poem, 'Reel,' struck me as a succinct statement of our human condition and need.
A woman of many shades, Frederick publishes one of our favorite weblogs, Small & Big, a site that I can describe only as, well, again, original. I guess I knew that when I first ran across her blog and saw the photo accompanying her profile. It's perfect. A different perspective and slightly out of kilter.
Thank you for all of that, P.L.
I have time to savor these things now that I've cut back our blogging schedule from two to one entry per week. Among other things, it's made me someone other than the guy the cats (and my wife, Bonnie) see sitting in old T-shirts and sweatpants at this computer a lot of the time.
Now I'm also the guy who does home carpentry. So in the past week, I installed a door at the top of the stairway to the second floor of our house. It's not a vertical door but more like a horizontal hatch, a big one that swings up and out of the way when we want the stairway open.
We are people of simple means, so the second floor of our house is mostly open crawl space with a single bedroom at the far end of it. My wife's two sons are both well-grown and living elsewhere, so they use the bedroom only when visiting. And there are no water pipes on that floor, so it can tolerate being cold for long periods.
This hatch, by the way, isn't just an 8-by-3-foot piece of 5/8-inch plywood. Oh no, it is hinged above new molding that matches the rest of our ceilings and is painted white to look like ceiling when it's in the down position.
The project cost about $180 (a plywood panel is really expensive when it doesn't fit in your car and has to be delivered), but we estimate it will save us about 150 gallons of heating oil this winter. At the current price, that's about 600 bucks.
And since the top step will now be the stairway's warmest, I know where our cats will be this winter. Scratching at the hatch.
This week's new offerings in Works:
• Poetry of P.L. Frederick — 'Humming Field,' 'Parade,' 'Downward Dog' and 'Reel.'
• Chapters 28 and 29 of R.J. Keller's novel Waiting for Spring:
Chapter 28: In the first few weeks after her abortion, Brian's sister Rachel is prone to wild mood swings that take a toll on Tess and Brian as they try to watch over her. But as a family Christmas gathering approaches, Rachel settles down and on several occasions actually seems cheerful.
Chapter 29: After a pleasant Christmas gathering, Tess gives way to some deeper thoughts she's been having about Rachel's laid-back moods. Drugs. Rachel confirms it and offers another revelation — she's stolen some of Tess' jewelry, including a custom-made engagement ring from her now-ex-husband, to pay for the drugs.
• Chapters Four and Five of Ann M. Pino's novel Steal Tomorrow:
Chapter Four: Cassie and her fellow members of the Regents, a survival gang of children and teenagers in a world left without adults by a pandemic virus, learn that someone is grabbing children from the streets and taking them away in vans. Several gangs are considering an alliance to find out who's behind the kidnappings.
Chapter Five: Cassie spends an early morning in the Regents' clinic, sharing her knowledge of plants to help produce herbal medicines, then spends the afternoon leading a group trying to start a garden. She receives a bag of seed potatoes from a forager named Galahad, a young man in whom she is developing more than a horticultural interest.
– Sid Leavitt
Posted in Uncategorized | 8 Comments »