September 21, 2008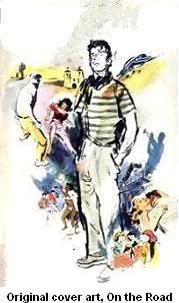 I realized just this past week that it has been 50 years, almost to the day, that I first read Jack Kerouac's On the Road, a fact brought home to me by a note from one of our contributing writers, Marjorie Pagel.
Those 50 years have made a difference in my appreciation of Kerouac. He's still a genius to me, but for different reasons.
Pagel, a retired newspaperwoman in Franklin, Wis., was searching the Internet for a favorite quote by Kerouac about writing when she ran across an open letter by Robert Genn, a noted Canadian painter, advising other artists to consider Kerouac's words:
And this is the way a novel gets written: in ignorance, fear, sorrow, madness, and a kind of psychotic happiness as an incubator for the wonders being born.
As Genn tells his fellow artists, it's this "psychotic happiness as incubator" that might interest them. It certainly interests Genn, who expresses the idea a little differently as he discusses it with a friend, artist Joe Blodgett:
Incubation is the business of anticipating surprise. Sure, there's calculation in trying this and that in the studio of the mind — better pattern, more light, tone down, subtraction, injection. But there's also the matter of letting the thing hatch naturally. Sometimes the solution just simply appears. 'Sometimes the egg has been shaken and there's no hope,' says Joe. By that he means too many early sins that are difficult to erase — too much unpleasant history in the piece.
When I read On the Road in the late summer of 1958, just after it came out, what I loved about the book was Kerouac's nervous energy, eccentricity, lust for experience — yes, psychotic happiness. To the restless 18-year-old that I was then, those words seemed so radical:
'Oh, man,' said Dean to me as we stood in front of a bar, 'dig the street of life, the Chinamen that cut by in Chicago. What a weird town — wow, and that woman in that window up there, just looking down with her big breasts hanging from her nightgown, big wide eyes. Whee. Sal, we gotta go and never stop going till we get there.'
'Where we going, man?'
'I don't know but we gotta go.'
I read On the Road again a couple of years ago, and now that kind of dialogue seemed so stilted, so dated. And what I thought in 1958 was so conventional, so sentimental, now had a depth I couldn't have imagined at 18. Not until I also had driven in Mexico:
The boys were sleeping, and I was alone in my eternity at the wheel, and the road ran straight as an arrow. Not like driving across Carolina, or Texas, or Arizona, or Illinois; but like driving across the world and into the places where we would finally learn ourselves among the fellaheen Indians of the world, the essential strain of the basic primitive, wailing humanity that stretches in a belt around the equatorial belly of the world from Malaya (the long fingernail of China) to India the great subcontinent to Arabia to Morocco to the selfsame deserts and jungles of Mexico and over the waves to Polynesia to mystic Siam of the Yellow Robe and on around, on around, so that you hear the same mournful wail by the rotted walls of Cadiz, Spain, that you hear 12,000 miles around in the depth of Benares the Capital of the World. These people were unmistakably Indians and were not at all like the Pedros and Panchos of silly civilized American lore – they had high cheekbones, and slanted eyes, and soft ways; they were not fools, they were not clowns; they were great, grave Indians and they were the source of mankind and the fathers of it. The waves are Chinese, but the earth is an Indian thing. As essential as rocks in the desert are they in the desert of 'history.' And they knew this when we passed, ostensibly self-important moneybag Americans on a lark in their land; they knew who was the father and who was the son of antique life on earth, and made no comment.
'The waves are Chinese, but the earth is an Indian thing.' My god, what poetry.
This week's new offerings in Works:
• Chapters 10 and 11 of Ann M. Pino's novel Steal Tomorrow:
Chapter 10: Members of the Regents gang raid a research lab but are unable to find evidence that human growth hormone will help cure a lethal virus that has left the world without adults and is killing the surviving children as they approach adulthood. Meanwhile, Cassie is concerned that one gang member with strong religious views is growing dangerously unstable.
Chapter 11: Cassie joins Julilla, a member of the Regents military wing, on another raid — this one on a brownstone that is home to an odd couple named Thing One and Thing Two — where they find a laptop computer from the research lab the gang already has searched. Initially captured by the odd couple, the two girls eventually escape with the laptop.
• Chapters 34 and 35 of R.J. Keller's novel Waiting for Spring:
Chapter 34: Tess' and Brian's worst fears are confirmed: Brian's sister Rachel was lured out of rehab by her drug dealer boyfriend and then killed by one of his other addicts. Tess is beset by guilt that she should have helped Rachel more, and Brian is having even more trouble dealing with those and other thoughts.
Chapter 35: Tim, the drug dealer responsible for Rachel's death, has come out of hiding. Rachel's father, Rick, who abandoned her and Brian as children and now seeks some kind of redemption, avenges his daughter's death by killing Tim. It's unlikely Rick will be caught since Tess, who earlier had planned to do the job, shares her research with him.
– Sid Leavitt
Posted in Uncategorized |