November 30, 2008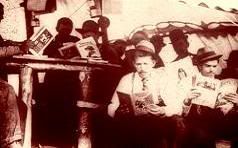 Steve Karmazenuk, the first author to entrust an entire book to R&W Blog, is looking for readers to check out his latest science fiction novel, The Darkness and the Stars.
Karmazenuk is appealing for 'beta-readers,' a computer-literate construct based on the term for the exploratory stage of software in which feedback is not only expected but welcomed.
And by the way, readers, however many of you are still out there, have you read the latest short story in our fiction section, 'To Remember and To Forget' by Luke Darbyshire?
Karmazenuk's latest work, although it stands on its own, is an extension of the story line in the sci-fi novel he allowed us to serialize earlier this year, The Unearthing, also in our fiction section. Both novels originally were conceived under a seven-part outline, but that was a dozen years ago when he was planning a five-year television story arc that he later decided would work better as novels.
Anyway, he says, "I have been working on (The Darkness and the Stars) for five years, counting various abortive starts, revisions, reviews and rewrites . . .. I've finally completed what I feel is the 'ready' draft of the story. I am looking for people to read it — preferably people who have read Unearthing first — so that I can collect a little reader feedback before declaring it 'complete' and shipping it off to the publisher."
If you can handle some beta-reading, email Karmazenuk at kspace@videotron.ca. And while you're at it, check out his weblog, Kspace, where he discusses writing, life, politics and other subjects. A resident of Montreal, he also is author of the novel Oh Well, Whatever, Nevermind (excerpts available through www.phyte.ca) and is a music journalist for Confront Magazine (http://www.confrontmagazine.com/).
And now, the Darbyshire short story. If you haven't read it yet, you're missing what one perceptive reviewer (me) described as "like James Joyce meets Raymond Chandler meets A Clockwork Orange."
How can you pass that up?
– Sid Leavitt
NOTE:
The image at top is an archival photo taken from the website of Frontier College, a Toronto-based organization that runs a variety of literacy programs across Canada. It seemed a fitting image for a blog entry about our Canadian writer friend Steve Karmazenuk.
Posted in Uncategorized | No Comments »