December 7, 2008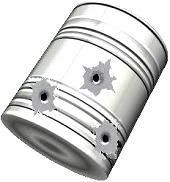 I've been playing a lot more music these days and not paying as much attention to this website as I probably should. Spammers, on the other hand, have been increasingly attentive to R&W Blog.
We're getting buried by spam postings in our comments section — hundreds of them a day.
We have a good library of offerings in our Works section — nonfiction, fiction and poetry — and we plan to leave this website up on the Internet for anyone who'd like to read them. Of course, for a website to remain healthy, it must stay active.
During my recent weeks of relative inactivity, R&W Blog's general health has been slipping — from a Technorati authority of 27 and rank of 305,000th in March to an authority of 9 and rank of 632,000th this month.
That's still not horrible. Considering that Technorati tracks more than 5 million blogs, a rank of 632,000 still puts us in the top 13 percent.
I'd like to think R&W Blog still has some shine as it sits in this vast cybersphere, much of it wasteland. But like anything that glitters in the desert, not really abandoned but not often visited, it invites vandals.
We're like a shiny tin can that attracts bullet holes.
Well, I'm getting pretty good at dealing with these spam comments by the hundreds. I do have to scroll through them — I wouldn't want to miss a legitimate comment from a reader. But I have quickly learned that any comment containing multiple links — they show up on my machine in blue — is spam.
And some of these spam comments are so strange, they're almost amusing. For example, bad translation into English gives us this offering from newsesystem.com:
Hello! Our company plans creation of essentially new search system! We spend interrogations 3 months. It is important to us to know what search system from existing now on the Internet most to you it is pleasant — google or msn or yahoo. And also that it is pleasant to you and that is not pleasant in these search systems.
(Notice how the words 'that it' and 'that' in the last sentence are a mistranslation of the word 'what'?)
Another spammer offers a free loophole to get a gold membership at Adult Friend Finder, a site for "sex without commitment." I wonder what the silver membership promises — sex with less commitment?
And really, spammers, if you're going to claim to represent a legitimate business, try spelling it right — got that, Conney Island Pizza New York? And it's hard to buy into any school that claims to be in western Pannsylvania, although this did purport to be a cooking school.
Another spam comment drew my attention to a 'raw cooking school.' What the hell is that?
Anyway, apart from stopping now and then at the loopy ones, I've developed a reasonably good speed at scrolling through all these spam comments. And our comments section has two buttons — 'mark all as spam' and 'bulk moderate comments' — that makes them quickly flushable.
So take your best shot, spammers. We like a little riddle now and then.
– Sid Leavitt
Posted in Uncategorized | 9 Comments »