January 22, 2010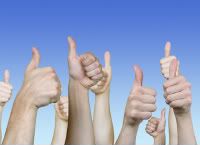 Our new songbook, Sing along with ease, is drawing endorsements from around the world:
• Barack Obama: That health care thing isn't going so well, but my musical life is at an all-time high, thanks to Sing along with ease. We now have a couple of singalongs a week at the White House.
• George W. Bush: Frankly, I used to think of singalongs as a commie plot, but Sing along with ease has changed my perspectioness. Gives me something to do in retiredom. I just wish Cheney would stop singing flat.
• Pope Benedict XVI: Hey, I really like two of those 313 oldtime favorite songs in Sing along with ease — 'Santa Lucia' and 'O Sole Mio.' [EDITOR'S NOTE: Those songs really are in the book.]
• Motorhead: Enough of this heavy metal trash. Sing along with ease has drawn us back to the old favorites — and is now our official songbook.
• Black Sabbath: Yeah, what they said.
• The Rev. Pat Robertson: Sing along with ease is clearly the result of a deal with the devil, but it does include more than two dozen religious songs and Christmas carols. What the heck . . . thumbs up!
• The Devil: Yeah, what he said.
Seriously, friends, this songbook is the real deal. It's the same one that our little family band — me, my wife and her parents — have been using and compiling for the past 17 years playing at various nursing homes and senior residences in our area. We still play three times a week.
It's a good deal, and it's the simplified sheet music that makes it so. Our sheet music shows a single-line melody that a basic guitarist or pianist can play along with the chords over the melody and the lyrics beneath or that an unaccompanied vocalist can follow easily. Sheet music — that is, music showing the actual tune — can be expensive. We found a typical two-sheet song on the Internet for $4.95 or about $2.50 per sheet. Dividing the price of our book, $39.95, by the number of songs in it, 313, gives a per-sheet cost of less than 13 cents. Our songs are easier to follow, and each is on one sheet, so there's no flipping pages.
And it's an idealistic deal.
Sure, we get some money out of it — enough to cover our materials, equipment and production costs — but this is more altruism than capitalism. Singing old songs with senior citizens — songs that were new when they were — can be, like the credit card ad says, priceless.
This book could be just the vehicle to do that. Not just for volunteers but for staff members at nursing homes or senior residences who would like to add a singalong to their activities schedule.
And it's not just for seniors. There have been times in my younger life when I felt so crappy that I just wanted to be alone. I would sit at a piano and pick away at a sad tune. If I'd had this songbook — yes, there are some sad songs in there — it might have gone a little easier.
Or think about sitting down with your family and singing some of these songs. Maybe that piano you neglect or that guitar sitting in a dusty corner or that voice you raise just for arguing …. maybe they have a better use.
– Sid Leavitt
NOTE:
The image at top was found on travel writer Andrew Petcher's website Have Bag, Will Travel.
Posted in Uncategorized |