April 12, 2010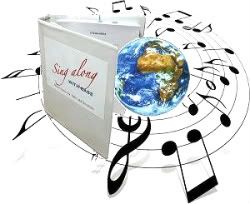 Since we started selling our singalong songbook a few months ago, we've gotten orders from various parts of the United States and Canada, but it wasn't until we sent one to Australia that it really struck me:
This little songbook …. well, not really little, since it has sheet music for more than 300 oldtime favorites …. this collection of songs that we've compiled and sung for the past 18 years has traveled out of town, out of state, out of the country and now out of the Northern Hemisphere.
The songs that our little family band shares three times a week with folks in our small town are now being shared with folks in farflung parts of the wide world.
That same thought struck my wife, Bonnie, at about the same time:
'I like to think about people in all these places singing the same songs we do,' she said. 'It's spreading the cause.'
And what cause is that? Well, it's not money, although we hope to make enough to keep printing and shipping out the songbooks. No, it's to help people who would like to volunteer to lead singalongs at local nursing homes and senior residences, as we in the Hat Band do. And to sing along with their friends and family, as we also do. And to share these songs with younger people.
We're not trying to compete with rap music or hard rock. But we are trying to keep alive those songs that have been favorites over the past century and a half. They're part of our shared heritage, or, better said, a heritage that should be shared. Because if it isn't, it dies.
When I was a kid, the country was coming out of the Great Depression and nobody my family knew had any money. So folks would get together at somebody's house with a few bottles of beer — and sing. In the 1934 movie 'It Happened One Night,' Claudette Colbert and Clark Gable are on an old clunker of a bus one stormy night when all the passengers decide to entertain themselves by singing. They all break into 'The Man on the Flying Trapeze' (three verses and the chorus of which, by the way, are in our book, Sing along with ease).
Try that today and you'd probably be arrested by the bus driver or, in the earlier example, thrown out of the house.
Our new friend in Australia is a 70-year-old gent who sings and plays guitar in, as he put it, 'rest homes and community age care situations.' When he saw the songbook ad on our website, he didn't realize we were in New York state. The book weighs about three pounds, and shipping it to Australia cost him an extra $15.29 over our regular U.S. shipping charge of $5.79. He was willing to pay the surcharge. Although he didn't say it, frankly, I don't think you can find another songbook like this on the Internet.
You know, one of the songs that isn't in the songbook is 'Waltzing Matilda.' I think we're going to have to add it one of these days. And when we do, we'll send an electronic copy to everyone who's already bought the songbook so they can add it to their collection.
Ah, cyber-technology. A newfangled way to save oldtime favorites.
– Sid Leavitt
Posted in Uncategorized |