March 27, 2012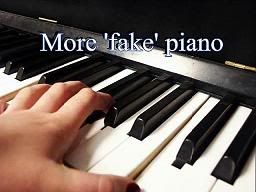 Hello again, o faithful weblog. It's been almost 15 months since we last talked, but I've been busy … well, as busy as a retired guy can be … promoting our songbook

(yes, there it is in the lefthand column) and what it in turn promotes. Which is:
Easy music to play and sing along with.
An easy way to play that music is with what I call 'fake' piano. And that's what I've been doing lately — making videos showing the basics of 'fake' piano.
I put the word in quotes because it's not really fake. It's just a simpler way to play the piano and have it sound pretty good — like you know what you're doing. And at the bottom of this blog entry is a set of links so folks can see these videos and download a related set of sheet music and note and chord charts.
The downloads are free. With our best wishes.
I say 'our' because the songbook has been compiled by our family band — the Hat Band (we all wear hats) — and the videos are an outgrowth of that.
The songbook is a collection of 344 old favorites that we sing and play each week as volunteer singalong leaders at local senior residences. We — the other three members are my wife, Bonnie, and her parents, Glenn and Virginia — have been doing this for two decades at a number of senior residences and nursing homes. But lately, since we're not getting any younger (our average age is now 79), we've cut back to only two singalongs a week.
We'd like to encourage others to start leading their own singalongs, and we hope the songbook and the videos will help.
But that's not the only reason. These materials can also help someone just play at home on a piano that's been ignored for years or on that guitar that's been collecting dust since the '70s.
Our band uses three instruments — Bonnie and I play acoustic guitars and Glenn plays the banjo and mandolin, sometimes also a fiddle (Virginia is a great harmony singer and emcee). We're all strictly amateur musicians, but our audiences welcome us as if we were professionals.
Sometimes after the singalongs at one of the senior homes, I sit at their grand piano and play instrumentals of some of the old songs as the residents are wheeled or led away to their rooms.
I'm certainly no great pianist — you can tell that from the videos — but I've been faking it for years. And it sounds pretty good.
So check out these links. You don't need the songbook. I've included sheet music for the six songs covered in the two videos, and the note and chord charts also are free.
Here is the first video: 'Play the piano in 19 minutes.' And here's the second: 'More 'fake' piano.'
Here's the sheet music (see note below for best printing): From the first video: 'Down in the Valley,' 'Amazing Grace,' and 'By the Light of the Silvery Moon.' From the second video: 'Edelweiss,' 'All of Me,' and 'When Irish Eyes Are Smiling.'
And the charts (same note applies here): Melody Notes (all positions), Chords 1 (C, C7, D7, Dm, F, Am, G, A) and Chords 2 (B7, E7, Em, Cm).
Best wishes.
– Sid Leavitt
NOTE: Once a sheet music link has opened, don't print the first image. Instead, save it to your desktop (right-click on it and choose 'save image as'), then open it from your desktop and print it. (The print of the first image will be too small.)
Posted in Uncategorized |